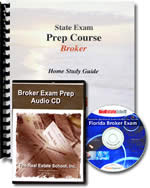 Buy this bundle and prepare well for the state exam. Listen to the CD for understanding; follow along in the manual; then take the practice exams on the CD.
600 questions with answer rationale that will prepare you well for the test..)

System Requirements: Windows PC (200mhz Pentium or better) running Windows 98,2000,NT,XP, CD-ROM drive.

Save $31.90 on this bundle.